Interactive sculpture installation with sonorous and visual feedback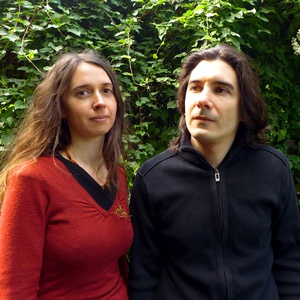 Lasserre & met den Ancxt
The couple artists Gregory Lasserre and Anais met den Ancxt work under the name Scenocosme.
These artists overturn various technologies in order to create contemporary artworks. Their works came from possible hybridizations between the technology and living world (plants, stones, water, wood, humans.,..) which meeting points incite them to invent sensitive and poetic languages. Their artworks are exhibited in numerous museums, contemporary art centres and digital art festivals in the world.
They have exhibited their interactive installation artworks at ZKM Karlsruhe Centre for Art and Media (Germany), at Daejeon Museum of Art (Korea), at Museum Art Gallery of Nova Scotia (Canada) etc
Reactive matter
As media artists, we explores capacities of technologies in order to draw sensitive relationships through specific stagings where senses are augmented. Most of our artworks are interactive with the touch, in order to play with sensitive degrees of proximity and intimity. We would like to think and work with the scientist of the possibilities to use the technology of the programmable matter in order to design news artworks and new ways of interaction with the public. The concept of electronic clay could cross our artistic approach. In most of our artworks, we explore the symbolic surface of the skin, it porosity and it various interactions with the environment where the technology is more and more present. In our work, we suggest links between natural elements and objects with virtual sounds, lights or images.
What kind of poetic and symbolic relationship the electronic clay can create ?
How it is possible to build, to sculpt an intuitive and evolutive musical score and visual reation with blocks ?
How is it possible to link several objects together ? To create a singular network ? To gather several spectators in a performance ?
About this residency
Reactive matter

Besançon, France

Interactive sculpture installation with sonorous and visual feedback
From Sept. 4, 2017 to Nov. 4, 2017

Producer: Scenocosme
Localization: Besançon, FR


Programmable Matter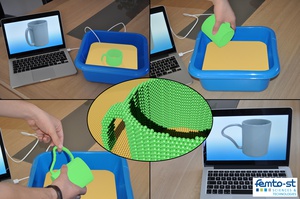 In this project, we will investigate a new smart system made from a hardware component and a software approach that will enable the creation of the basic blocks of programmable matter, a matter made from centimeter-size modules attached together and able to move. The hardware component is a quasi-spherical robot using computationally controlled forces for power distribution, communication, adhesion (latching), and locomotion. The software approach aims to provide a new way of programming such a complex system through a scalable, real-time, efficient, expressive and at the same time safe programming of an ensemble of robots with an emphasis on self-configuration and self-reconfiguration distributed algorithms. The application will use the robots to sculpt a shape-memory polymer sheet.
Find more