Sub-sub-Microbiological Art Research & Technology goes to Self-Organizing Synthesizer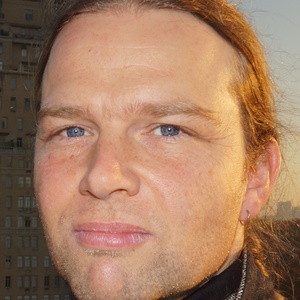 Tim Otto Roth
Born 1974 in Oppenau/Black Forest, is a conceptual artist and composer known for his large installations in public space–often realized in collaboration with leading scientific institutions around the world. The question about space is the golden thread running through his oeuvre, which is expressed by the projective translation of objects into shadows by the medium of light, his fascination with the nocturnal firmament, or the creation of sound environments using space as a synthesizer. Most of Roth's works can be considered as a plea for a "physics of art", as they demonstrate the physical dimension of phenomena that also affects the body.
SMART>SOS
SMART>SOS is a video and sound installation revealing a new paradigm of computation: a living calculation process on a sub-sub-microbiological level. On the floor the visitor watches the projection of flower like pattern of blue channels with white "worm" like molecules – the so called "microtubules" moving in. Over the projection hangs a ring of fifteen loudspeakers reacting on the activity in the projected video from the microscope. Every time when one of the macromolecules passes a certain area in the symmetric structure a speaker flashes up and plays a sine tone.
Although the pathway of the looping channel structure is completely symmetric obviously the distribution of the microtubules is changing. This becomes audible and visible by the pitch and colour of the loudspeaker – a rising pitch signals a higher activity of the correspondent area, a lower pitch indicates that fewer molecules have passed less frequently in the last time steps. This results in a sound carpet of continuously changing sine tones representing a process of biological calculus and self-organization.
About this residency
SMART>SOS

Lund, Sweden

Sub-sub-Microbiological Art Research & Technology goes to Self-Organizing Synthesizer
From Sept. 22, 2017 to April 30, 2018

Localization: Lund, SE


Bio4Comp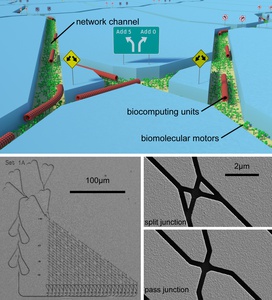 The idea of the project is that biomolecular machines, each only a few billionth of a meter (nanometers) in size, can solve problems by moving through a nanofabricated network of channels designed to represent a mathematical algorithm; an approach we termed "network-based biocomputation". Whenever the biomolecules reach a junction in the network, they either add a number to the sum they are calculating or leave it out. That way, each biomolecule acts as a tiny computer with processor and memory. While an individual biomolecule is much slower than a current computer, they are self-assembling so that they can be used in large numbers, quickly adding up their computing power. Specific challenges are (1) to design error-free junctions, (2) to multiply the number of biomolecules to adapt to the difficulty of the problem, (3) to tag the biomolecules to know which path they have taken through the network.
Find more