SCI-FI MINERS, the miners of the future, the artistic exploration of how, with the help of scientific advances in nanotechnology and artificial intelligence, critical catalyst materials will be replaced by their synthetic equivalent, with Earth-abundant materials.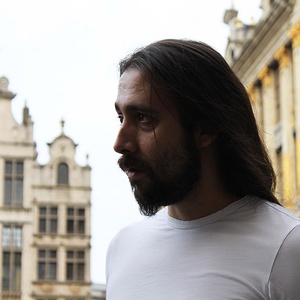 João Martinho Moura
Researcher and media artist born in Portugal. His interests lie in digital art, intelligent interfaces, digital music and computational aesthetics. João Martinho Moura has a special interest in real-time visualization, art & science, computer music and digital interactive artifacts. For the past decade, he's been adopting new ways to represent the body in digital media, creating interactive audiovisual artifacts, mostly represented by monochromatic visual abstractions and minimalist lines.
João Martinho Moura has presented his work and research in a variety of conferences related to the arts and technology, including the International Festival for the Post-Digital Creation Culture OFFF (2008); World Congress on Communication and Arts (2010); SHiFT – Social and Human Ideas for Technology (2009); International Symposium on Computational Aesthetics in Graphics, Visualization, and Imaging CAe (2008); ARTECH (2008); ARTECH (2010); Computer Interaction (2009); ZON Digital Games (2007); International Creative Arts Fair (2008); ZON Multimédia Premium (2008); Le Corps Numérique – Centre Culturel Saint- Exupéry (2011); Semibreve Award (2012); TEI International Conference on Tangible, Embedded and Embodied Interaction (2011); Guimarães European Capital of Culture 2012; Bodycontrolled Series LEAP – Lab for Electronic Arts and Performance Berlin (2012); Futureplaces (2012); Ars Electronica Animation Festival (2012); SLSA Conference – Society for Literature, Science, and the Arts (2013), xCoAx – Computation Communication Aesthetics and X (2013), European Space Agency (2014), International Iberian Nanotechnology Laboratory (2017), Braga Media Arts (2017).
Has collaborated with the development of projects related to scientific data visualization for ESA (European Space Agency) space missions.
From 2015 to 2017 he was an active member, as media artist consultant and contributor, for the application of the city of Braga to the UNESCO Creative Cities Network – Braga Media Arts. The title of 'UNESCO Creative City of Media Arts' was attributed to the city of Braga on the 31st of October 2017.
Since 2010, invited lecturer at the Master Program in Technology and Digital Arts, at University of Minho, Portugal, teaching Programming for Digital Arts. Since 2015, invited lecturer at Escola Superior de Tecnologia at IPCA – Polytechnic Institute of Cavado and Ave. He his member of the artistic cooperative AUAUFEIOMAU and founding member of the Artech-International Association.
Studied Technology and Digital Arts, with Professors: Né Barros, Adérito Marcos, Nelson Zagalo, Pedro Branco and Paulo Ferreira-Lopes. João Martinho Moura is conducting his research at engageLab, a laboratory at the intersection of arts and technology.
João Martinho Moura has a degree in Technology and Information Systems from the University of Minho (2006), and a master's degree in Technology and Digital Arts from the same Institution (2012) and is currently pursuing a Ph.D. in Science and Technology of the Arts at the School of Arts of Universidade Católica Portuguesa.
Sci-fi miners
The artist intends to work with the data generated with the study of the main parameters such as size, shape, surface structure and chemical composition of the nanoparticle catalysts. He intends for his artwork to turn this concepts (very complex structure-properties; state-of- the-art electronic structure level computational methods; large amounts of quantum chemistry calculations) accessible to the general public, through interactions, immersive experiences and gameplay, with an audiovisual interactive installation, where the user can interact with the artistic representation of those nanoparticles and their catalytic activity. The artwork will present visual and audio real-time algorithms, spatialized elements around the participant, generated by the physical relation and the collection of data parameters from the large dataset of the project, intending to let the public know how important this research is for humankind and for the sustainability of our planet.
The artwork will be presented in two different schemes: participatory and performative. In both cases vision, audio and interaction will play the main role. When in participatory form, suitable for exhibition spaces, participants will interact with the artwork through gestures, observation, and audition, with immersive and virtual reality technologies. When in performative version, the author will present the same artwork with a real-time narrative in mind. The performance version will be suitable for theatres, venues or auditoriums.
CritCat

There is an abyss between emerging nanotechnologies and the general society provoked by the fact that scientists and the public speak "different languages". To tackle this communicational and emphatic issue, we believe in the co-development of artworks and experiments that can change people's perception of nanotechnology by promoting understanding. In CritCat, the challenge relies on the interpretation, explanation and presentation of the produced theoretical and experimental data. To this end, we'll happily share a large number of aesthetic elements available during the residency: • Nano-objects visualization • Open computational data • Computer codes • Image and digital data set • Home-made prototypes • Lab sounds • Creative environment • Traditional research feelings/visions
Find more