Haseeb Ahmed
 X
DANCE
Can you introduce yourself?
My name is Haseeb Ahmed. I am an artist living and working in Brussels, Belgium. Since graduating from the MIT Program in Art Culture and Technology in 2010 I have been working to develop a practice that is deeply collaborative between artistic, scientific, and design disciplines. Towards these ends I have worked with geneticists to produce the Fish Bone Chapel commissioned by the Netherlands Genomics Initiative as a winner of the Designer and Artists for Genomics Award. My PhD in practice based arts involves a deep collaboration with engineers and physicists on the nature of fluid and the use of turbulence patterns for art. I am happy now to work with Beatrice de Gelder and the Brain and Emotion Laboratory on this project.
Can you present your project WIND AVATAR? 
 Our minds are limited to the corporeal form of our bodies which have distinct capabilities and limitation.  Working with the Brain and Emotion Lab and DANCE research consortium the project "Wind Avatar" directly links a person to the wind. The Wind Avatar consists of an apparatus that a directly expressive body movement and turbulence patterns in the wind and allow a person to literally inhabit the wind and its freedom. A wind tunnel system developed by the artist with engineers from the von Karman Institute for Fluid Dynamics creates the face of the wind and allows for the control of its expressions. This project brings together three years of existing research in fluid dynamics by the artist with Dance's systems to create an original fusing of disciplinary knowledge.
Body movements express emotion in subtle and highly coded ways. The practices of dance stabilize the expression of emotion into patterns of movement. Like the DANCE project, the Wind Avatar is particularly interested in working with people who are physically impaired or congenitally blind.  This project can offer a tactile sensory experience of visual phenomenon by employing the full-body sensation of wind blowing on a person's skin.
What do you expect from this residency?
My main objective is to produce a new body of research and I do not believe that art and science residencies should be product oriented rather, about the new exchanges that take place.
In this case however I do have 2 concrete outcomes: I would like to produce a prototype for an artwork that is a sculptural installation consisting of a wind tunnel and delta wing that produces the wind face turbulence pattern. I would like to incorporate data taken from emotional states by the brain and emotion laboratory to activate this face— essentially the face will express the emotions that someone is feeling bodily. I would like to use this apparatus for a performance. Secondly I would like to produce a short film that documents the process of making this research and art work that plays up on some of the narratives in it beyond mere documentation.
Find more about Haseeb Ahmed project here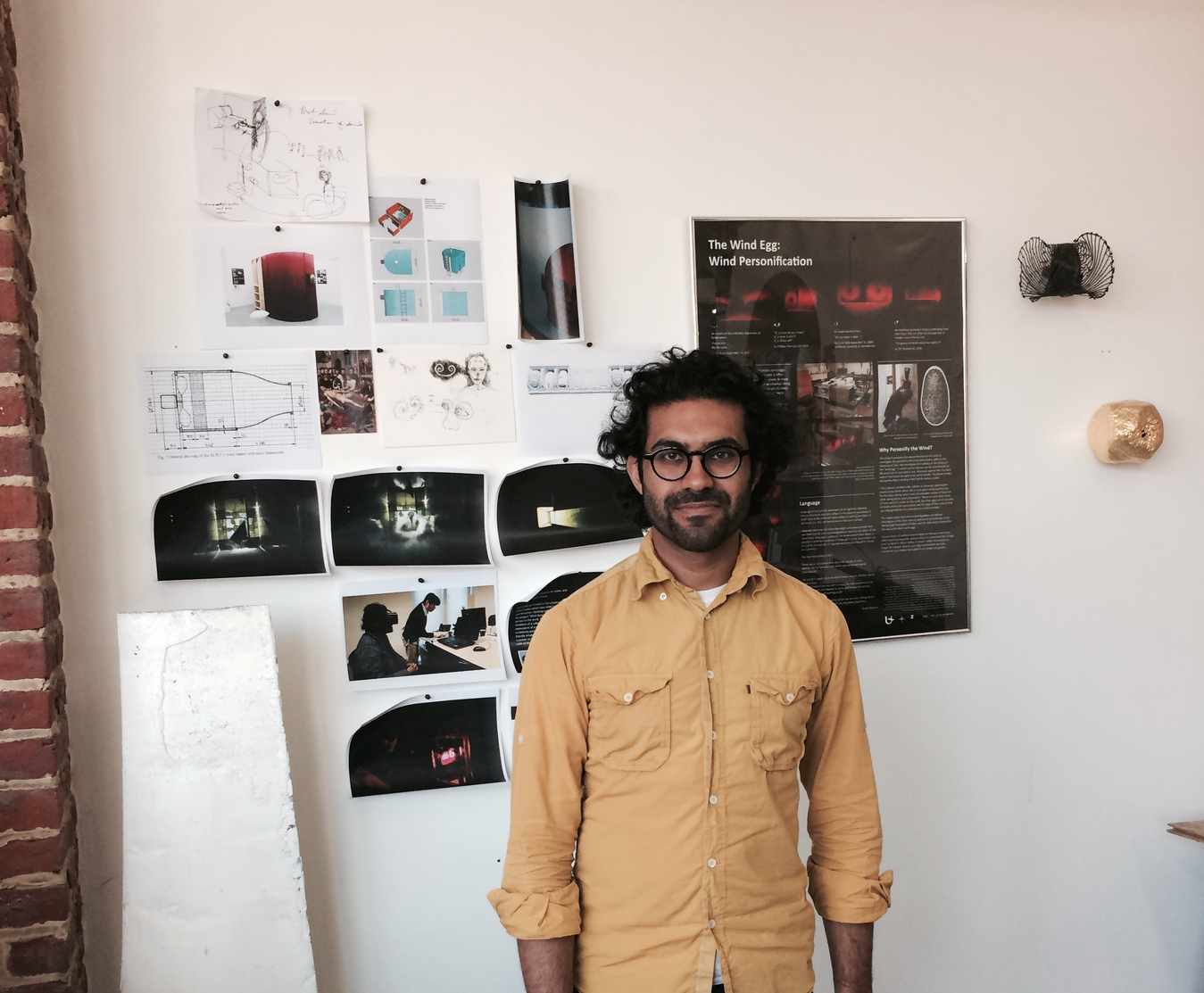 crédits: IRCAM, Clémentine Gorlier
Haseeb Ahmed in his studio, Brussels