Audio/Visual Sculptures made with a machine learning algorithm from GROW'S soil data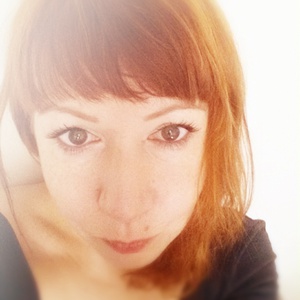 Kasia Molga
Kasia Molga is a Design Fusionist, Artist and Creative Technologist, working on the intersection of art / science / engineering using imagination as unifying vehicle. She examines our - human - perception of "nature" in the constantly growing and increasingly technologically mediated urban environments and creates tangible, multisensory and visual experiences, immersive environments, installations and hybrid visual/physical interfaces, design fictions or speculative futures narratives. She is a co-founder of design lab Electronudes (electronudes.eu) and art collective WorldWilderLab (worldwilderlab.net). She lectures, publish and present regularly and holds MA in Interdisciplinary Design Studies (Central Saint Martin College of Arts and Design).
Ode from the Dirt
"ODE from the DIRT" is a selection of audio/visual devices/sculptures created by Kasia Molga in collaboration with sound artist Robin Rimbaud Scanner. The data that comes from the soil and from the satellites will inform the artwork.. Various parameters such as moisture, ph, presence of specific organisms or minerals are main actors in this piece, translated and interpreted by machine learning algorithms making decision about animation of the lights and composition of the soundscape. The visual part will be made out of light components (such as lasers, LED lights or OLED screens) and will directly interact with the sound while responding to incoming data. The soundscape will be composed with precomposed audio elements - each element will be assigned to specific data parameter.
"ODE from the DIRT" can be exhibited as one device - creating a "solo" performance, or a number of sculptures - creating an "orchestra" or a "rave party". Ideally it will be displayed in urban environments to create a show about lands under the buildings and roads or nearby farms. But it also can be a beacon of singing soil in any environment wherever the soil is present.
About this residency
From Nov. 13, 2017 to Nov. 12, 2018

Producer: Futureeverything

GROW

Democratisation of sensors and sensing, encouraging citizen participation in science. Developing a low cost sensor network for citizen science at scale. Create an in-situ dataset of soil characteristics unprecedented in scale and density. Validating detection of soil moisture by the European Space Agency's Sentinel-1 programme. Demonstrating the value to science of high volume and density citizen contributed data. Citizens empowered to cultivate land and access affordable and high-quality food. Improve the ability of European society to manage climate variability and improve our resilience to climate change. Enable the UN and Global Soil Partnership to better achieve sustainable soil management in the European region. Enable, promote and evidence sustainable micro-farming, diversification and self-sufficiency. Making the data meaningful to non-specialists. Devising novel forms of engagement in the science, data and activities. Generating sustainable engagement for communities across Europe. Facilitate rigorous citizen science. Data quality, assurance and validation. Service innovation. Policy impact.
Find more