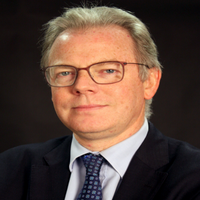 Jérôme Vercaemer
Jérôme Vercaemer joined Cisco France in 2015, as the Senior Director for Cisco Consulting France and a member of the Executive Committee. In this capacity, he coordinates the partnership initiated with the state to accelerate digital development in France and is also a member of the office of Cisco's Executive Chairman of the Board, John Chambers.
Convinced of the crucial role Cisco could play in support of the digital transformation of both business and infrastructure, he implements a unique partnership with the French government signed in February 2015.
This plan, the most ambitious launched by Cisco in the world, notably includes massive investment in startups and the innovation environment to support GDP growth, a priority for France. The plan also includes cooperation in education and vocational training in networking and digital areas. All these efforts are directed towards the digitization of the French economy.
Prior to Cisco, Jérôme worked 24 years at Accenture in various positions in France, the Netherlands, Italy and South Africa both for the telecom industry and public sector. In 2011, he became a member of Accenture France Executive Committee as the head of "Health & Public Service".
Graduated of the IT engineering school ISEP, Jérôme is also a member of the ISEP Board.