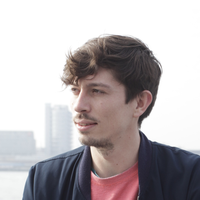 Chris Julien
You just stopped following Chris Julien.
You will no longer receive updates by mail.
Chris Julien works as research director at Waag Society. As a member of the board he is responsible for the collective research agenda and methodology of Waag Society. His ability to translate philosophical vistas into concrete projects makes him a core playmaker of the institution. A long-term focus on interdisciplinary approaches in academic and societal context shape the new Public Research agenda of Waag Society. In it, individuals as ethical actors are placed centre-stage throughout the entire chain of research, design and implementation of social innovation.
Before his role at Waag Society, Chris worked as finance director of the Studio 80 foundation, co-founded Novel Creative Consultancy and research new ways of working at FreedomLab. At this time he is a committee member at Creative Industries Fund NL, chairman of the GroenLinks committee on arts & culture in Amsterdam, and a regular fixture at Red Light Radio with his POP CTRL shows.