Castellanos & Valverde
María Castellanos has a degree and a PhD in Fine Arts from the University of Vigo, Spain.
Alberto Valverde is an artist and a technologist with a background in mathematics, with a solid experience in system design, interactive environments, robotics and programming.
They started to work together in 2009 under the name of uh513. Since then, they have been working in a variety of projects, focus in the relationships between humans and machines and creating technological interfaces to enhance human capabilities using technology.
The plants sense
The Plants Sense (2018) is an installation that allows the audience, to know and experience the secret language of plants. It is a transdisciplinary work which connects art, science, technology and society.
The work consists of an interactive garden in which different sensors measure the electrical oscillations of the connected plants, and show their biochemical reactions to the human presence and the environment that surrounds them.
All this information is processed and translated into vibrations and low frequency sounds that allow the visitor to perceive the plants through a wearable. Likewise, different interfaces in the garden provide the public to experiment and feel in their own hands the registered reactions of the plants, through different electronic devices.
This interaction makes possible the communication between humans and plants, thus reaching the understanding of the vegetal language, unattainable without the help of the robotic systems developed by the artist.
This device translates and transmits precisely those signals that humans, due to our limited perceptual system, cannot receive in other way.
The Plants Sense is exhibited at LABoral (Gijon - Spain) until September 22, 2018.
About this residency
The plants sense

Lübeck, Germany

Plant-Human sensory perception bio-interface
From Sept. 26, 2017 to June 12, 2018

Localization: Lübeck, DE


Flora Robotica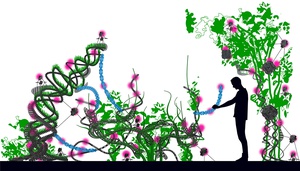 We face multiple challenges in robotics, biology, and architecture. To control the growth of natural plants, we have to create the right light conditions that balance the plant's needs to stay healthy and allow our robotic nodes to use their LEDs to steer the plant growth. Our robots need to sense the presence and the growth of plants, which is a challenge for sensor development. Our experiments are combined robot and plant experiments, which means we have to comply with two different experiment protocols at the same time. For architecture it is a challenge to accept the building process as a continuous process over long periods of time where we do not distinguish between a design and construction phase.
Find more