Castellanos & Valverde
María Castellanos has a degree and a PhD in Fine Arts from the University of Vigo, Spain.
Alberto Valverde is an artist and a technologist with a background in mathematics, with a solid experience in system design, interactive environments, robotics and programming.
They started to work together in 2009 under the name of uh513. Since then, they have been working in a variety of projects, focus in the relationships between humans and machines and creating technological interfaces to enhance human capabilities using technology.
The plants sense
Plants are living organisms present across the planet. However we don't hear them, we can't communicate with them, and we haven't the capability to understand them. But the science and the technology bring us the tools to make this communication possible. «/The Plants Sense\" is a project focused human-plant-robot interactions. We propose to develop a plant-human interface, able to feel the plants senses in humans. We propose to build a wearable device that allow us to connect ourselves with plants, and allow us to forge new bonds human-plants. A new way to feel plants, througt our skin, a much more intimate an emotional way. We have a background working with plants. In previous projects we developed sensors able to measure electrical vibrations in plants. So, we realised that this electrical vibrations changes depended on the changes in the surrounding, and we develop devices to visualize this changes in plants. But what will happen if we can feel this changes in our own skin? What will happen if we can feel the plants with our whole body? Maybe our perception of the plants will change.
About this residency
The plants sense

Lübeck, Germany

Plant-Human sensory perception bio-interface
From Sept. 26, 2017 to Nov. 6, 2018

Localization: Lübeck, DE


Flora Robotica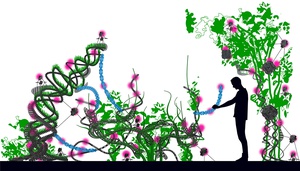 We face multiple challenges in robotics, biology, and architecture. To control the growth of natural plants, we have to create the right light conditions that balance the plant's needs to stay healthy and allow our robotic nodes to use their LEDs to steer the plant growth. Our robots need to sense the presence and the growth of plants, which is a challenge for sensor development. Our experiments are combined robot and plant experiments, which means we have to comply with two different experiment protocols at the same time. For architecture it is a challenge to accept the building process as a continuous process over long periods of time where we do not distinguish between a design and construction phase.
Find more