There is no Ideal for everybody, so what future to aim? Try to be observed, and also observing.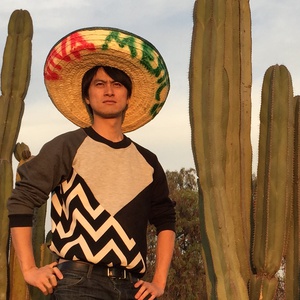 So Kanno
Graduated Musashino Art University department design Informatics Finished Institute of Advanced Media Art and Science. Part time lecturer at Tokyo Zokei University Media DesignPart time lecturer at Tokyo Polytechnic University department of Interactive media. So Kanno is using technology and focusing on some specific matters of technology such as relation between signal and noise, error and glitch. Making things to have new perspective. He is known for his drawing machine represented by graffiti robot, exhibited drawing machines at SeMA Biennale Mediacity Seoul 2012, the Sapporo International Art Festival 2014 and elsewhere.
The ideal showroom of IoT
Evolution of technology is way too fast. Computers are becoming invisible and possible to embed in most of everyday object without visual awareness. Sometimes it's even difficult to point difference between IoT product and spy system. And combination of IoT, artificial intelligence, 3D technology and virtual reality realizes a lot of things. But it's not only bringing useful features to you, some of them are fearful. And it will change perception and perspective of things.
"The ideal showroom of IoT" is a two-part composition, a participatory installation with a capacity of one person. The room is made with state-of-the-art technology. And the system try to capture information from participant as much as possible. It is ideal for technical perspective, and also companies which want to use personal data for sales. Though, Is it ideal for every single person as well? There's a lot of pros and cons, and being discussed. With this installation, participant will experience both of observed and observing side. this experience can make another perspective.
About this residency
The ideal showroom of IoT

Trondheim, Norway

There is no Ideal for everybody, so what future to aim? Try to be observed, and also observing.
From Sept. 4, 2017 to Nov. 5, 2017

Localization: Trondheim, NO


Create-IoT
Trust in the IoT Artist Residency The promise of the Internet of Things is that computing will disappear into the world around us. Any object, from a cup to street furniture, may be a connected object. This poses profound challenges, as its capability or use may not be transparent. This lack of transparency is compounded by a highly complex landscape of actors, where it is hard to determine who is responsible for devices, algorithms and data, and so who is accountable for privacy and when things go wrong. Profound issues are raised in the Internet of Things that are challenging to understand and address for industry partners and the public alike. Even among domain experts, a specialist in privacy may not understand the latest advances in security. This gap in understanding can inhibit acceptance and uptake of best practices among citizens and technology companies alike. The purpose of this artist residency is to make these issues tangible, visual, accessible, comprehensible.
Find more